Influenza in the Urgent Care Setting: Advances in Therapeutic Options
This activity is supported by an educational grant from Genentech, Inc.
Overview
Provider Statement
This continuing medical education activity is provided by
.
---
Support Statement
This activity is supported by an educational grant from Genentech, Inc.
---
Target Audience
The intended audience for the activities is urgent care practitioners and other health care professionals involved in the treatment of patients with influenza.
---
Learning Objectives
Upon successful completion of this educational activity, participants should be better able to:
Incorporate diagnostic assays into practice that have demonstrated improved sensitivity, specificity, and convenience to improve the detection of influenza.
Differentiate current treatments for influenza, based on their mechanisms of action, efficacy, safety, and administration.
Utilize therapeutic regimens that effectively treat influenza, as well as reduce its complications.
---
Activity Chair
John J. Russell, MD
Clinical Professor of Family and Community Medicine
Thomas Jefferson University
Sydney Kimmel School of Medicine
Philadelphia, PA
Chair, Department of Family Medicine
Program Director
Family Medicine Residency
Abington – Jefferson Health
Abington, PA
---
Faculty
Michael G. Ison, MD, MS, FIDSA, FAST
Professor, Divisions of Infectious Diseases and Organ Transplantation
Northwestern University
Feinberg School of Medicine
Medical Director, Transplant and Immunocompromised Host
Infectious Diseases Service
Northwestern University
Comprehensive Transplant Center
Chicago, IL
---
Reviewer
Ronald A. Codario, MD, EMBA, FACP, FNLA, RPVI, CHCP
---
Accreditation
Vindico Medical Education is accredited by the Accreditation Council for Continuing Medical Education to provide continuing medical education for physicians.
---
Credit Designation
Vindico Medical Education designates this enduring material for a maximum of 1.0 AMA PRA Category 1 Credit(s)™. Physicians should claim only the credit commensurate with the extent of their participation in the activity.
This enduring material is approved for 1 year from the date of original release, September 24, 2019, through September 23, 2020.
---
How to Participate in This Activity and Obtain CME Credit
To participate in this CME activity, you must read the objectives, answer the pretest questions, view the content, and complete the posttest and evaluation. Provide only one (1) correct answer for each question. A satisfactory score is defined as answering 2 of the 3 posttest questions correctly. Upon receipt of the completed materials, if a satisfactory score on the posttest is achieved, Vindico Medical Education will issue an AMA PRA Category 1 Credit(s)™ Certificate.
---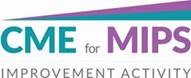 MIPS Qualifying Activity
Completion of this accredited CME activity meets the expectations of an Accredited Safety or Quality Improvement Program (IA_PSPA_28) for the Merit-based Incentive Payment Program (MIPS). Participants who successfully complete the activity and its performance assessment will receive printable documentation of successful completion for MIPS self-reporting.
To meet the criteria for improvement activities in the Merit-Based Incentive Payment System (MIPS) of QPP, accredited CME providers need to implement activities that:
address a quality or safety gap that is supported by a needs assessment or problem analysis or support the completion of such a needs assessment as part of the activity;
have specific, measurable aim(s) for improvement;
include interventions intended to result in improvement;
include data collection and analysis of performance data to assess the impact of the interventions; and
define meaningful clinician participation in their activity, describe the mechanism for identifying clinicians who meet the requirements, and provide participant completion information.
---
Disclosures
In accordance with the Accreditation Council for Continuing Medical Education's Standards for Commercial Support, all CME providers are required to disclose to the activity audience the relevant financial relationships of the planners, teachers, and authors involved in the development of CME content. An individual has a relevant financial relationship if he or she has a financial relationship in any amount occurring in the past 12 months with a commercial interest whose products or services are discussed in the CME activity content over which the individual has control.
The authors disclose that they do have significant financial interests in any products or class of products discussed directly or indirectly in this activity, including research support.
---
Activity Chair and Faculty report the following relationship(s)
Michael G. Ison, MD, MS, FIDSA, FAST
Royalty: UpToDate
Consulting Fee: Celltrion, Genentech/Roche, Janssen, Seqirus, Shionogi, Toyama/MediVector, VirBio
Contracted Research: Beckman Coulter, Cepheid, Chimerix, Emergent BioScience, Gilead, Janssen, Shire Data
Safety & Monitoring Board: GlaxoSmithKline, Shionogi
John J. Russell, MD
Consulting Fee: GlaxoSmithKline, Sanofi Pasteur
Speakers Bureau: Sanofi Pasteur
Reviewer reports the following relationship(s)
Ronald A. Codario, MD, EMBA, FACP, FNLA, RPVI, CHCP
No relevant financial relationships to disclose.
Vindico Medical Education staff report the following relationship(s)
No relevant financial relationships to disclose.
---
Unlabeled and Investigational Usage
The audience is advised that this continuing medical education activity may contain references to unlabeled uses of US Food and Drug Administration (FDA)-approved products or to products not approved by the FDA for use in the United States. The faculty members have been made aware of their obligation to disclose such usage. All activity participants will be informed if any speakers/authors intend to discuss either non-FDA approved or investigational use of products/devices.
---
Copyright Statement
Created and published by Vindico Medical Education, 6900 Grove Road, Building 100, Thorofare, NJ 08086-9447. Telephone: 856-994-9400; Fax: 856-384-6680. Printed in the USA. Copyright © 2019 Vindico Medical Education. All rights reserved. No part of this publication may be reproduced without written permission from the publisher. The material presented at or in any of Vindico Medical Education continuing medical education activities does not necessarily reflect the views and opinions of Vindico Medical Education. Neither Vindico Medical Education nor the faculty endorse or recommend any techniques, commercial products, or manufacturers. The faculty/authors may discuss the use of materials and/or products that have not yet been approved by the US Food and Drug Administration. All readers and continuing education participants should verify all information before treating patients or utilizing any product.
---
CME Questions?
Contact us at cme@vindicoCME.com